Surely lying around on bolsters is easy right? You are not exactly feeling the burn? But it doesn't really look like you are "doing" anything!
So my journey with Restorative Yoga started back in 2013 when I decided as a frazzled and overtired mum of an active 15 month old boy who never slept to enroll in Judith Hanson Lasater's Restorative Yoga training… I had told myself that I was doing it to learn new skills for my students but really I was doing it for me. Unconsciously my clever body had led me to this course because it was exactly what my over-tired and over-active vata-deranged body and mind needed at the time.
Doing the course first time around was hard. I studied by day and mothered and breastfed by night, but getting to taste the benefits of sampling three or four restorative poses daily (held for around 10 to 20 mins) I realized the power in the teachings and the deep need in me for this kind of yoga especially at this time in my life as a new mother. It felt like I was coming home to myself after being lost in no-mans-land, and by that I mean transitioning from the person I had been while still not being quite sure who I was now, other than a new mum and a milking machine.
I went on to do my case studies with three willing volunteers…well, mostly willing, my husband not so much so, but we discovered that actually this really was his kind of yoga and to this day Restorative Yoga remains his favorite type. It took me a while, a whole year in fact to complete them, but I am glad of that because before embarking on the case studies I started to make Restorative Yoga my daily practice which enabled me to more fully embody the practices that I then went on to teach and share. I was so passionate about this style of yoga I had discovered that I was desperate to set a class up. So I convinced Angela at Yogakula to trial setting up a class, which was one of the first Restorative Yoga classes in Leeds and I also started sharing Restorative Yoga within my private practice with students.
And for a while things were going really well. I was very disciplined and would endeavor to do my 20 minutes a day which really was helping me to slow down and be more present but gradually life got in the way and issues with childcare meant I had to stop teaching the class on Friday afternoons. With the extra work required for the new allwoman website launching and increased workload I gradually let my practice slip, that had been so integral to my life and so when the advanced course came up I knew it was time to return to the source and re-immerse myself in Restorative Yoga and the teachings of Judith Hanson Lasater, which extend much further then what we do on the mat… Her teaching primarily for me extends into how we live our lives, and live in relationship with others…I have actually trained with her every year since 2013 in one form or another, she has taught me how to really shower myself with self love because "Restorative Yoga is Self Love in action"… I borrowed this quote from another fab teacher on the course…she is right.
So why Restorative Yoga and why is it so good!
What I realised is that in the slowing down and being still is that in the stillness we can start to find within ourselves ways in which suffering can be avoided. By increasing our conscious awareness to the present moment, which we are forced to do in Restorative Yoga…"to be and not do", we can then create space which enables us to make choices that ultimately bring us more ease, joy and happiness. When we are busy being "busy" ..…we have no idea what we need as we are too busy to listen.
It actually requires lots of work to do nothing… it provides space in which to explore and question "why did I do that", "oh today I feel like that", "how can I support myself better today" as we have listened in more deeply and therefore know that we feel vulnerable, sad etc…
Restorative Yoga invites us to:
Slow down
Pay attention
Open our heart
If we can do that on the mat then we can do that in our life… because really where does our yoga practice end and life begin? For me the two are interchangeable and perhaps the struggle to find a practice some days is the practice in itself. "Today my practice is figuring out what my aversion is to practice is"….and sometimes that may be all our practice is for that day, and that is ok too.
The other thing Restorative Yoga brought up for me this time while away was an issue around boundaries. As a Piscean my boundaries can be quite fluid which can be confusing, I find, not only for me but also for others…so whilst in stillness I did a lot of investigation around my boundaries with others and myself. Thinking of what I needed to keep my own mind, body and soul satiated because in the work I do I feel it is important for me to reflect back to my students what I have embodied, which then enables me to effectively share that experience with my students.
Restorative Yoga is self love in action… and I truly believe it is and I also believe that we cannot teach effectively what we haven't embodied which is why my training and self enquiry/ practice is always an ongoing process, which is why I love yoga so much as there is no end…there is just more exploration. I am not great with endings so it suits me fine.
However whilst I was there that I had a few personal issues to work through that involved much contemplation around boundaries and I realised just how tired and sleep deprived I was. I made some promises to myself about what needed to change on my return.
Over the next few months there will be some changes happening within the business to make things easier for me and for you too and this pose is currently helping to support me as I transition through some difficult changes; hopefully it can help you out too if you are currently feeling the strain in any area of your life.
You can also make this pose very Cave like! My son loves this one too!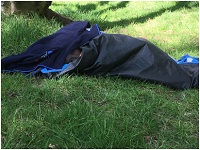 If you feel in need of some Restorative Yoga to help you recharge body, mind and soul then get in touch to arrange a free 20 minute consultation to discuss your needs. More information on the Restorative Yoga 121 sessions I offer can be found here. Here is a picture of a 121 client in a supported Shoulder stand pose, great for getting you out of your head and into your body, excellent for rebalancing body and mind and general re-enegising.The way we created this pose was to make an active pose passive so that she could hang out there for a while. She looks like she is flying!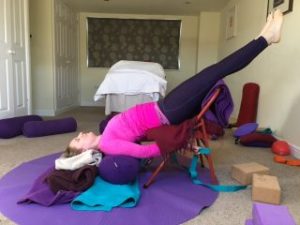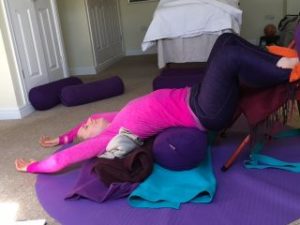 I have plans for more regular Restorative Yoga classes too which will be combined into the next timetable changes, please contact me directly to express your interest, classes will be very small and spaces limited.