I'm Liz. I'm 42 and Mum to J, who has just turned 3 and is the absolute light of my life, and wife of C who I first met over ten lovely years ago. He's a creative soul and a wonderful dad and partner. We live in Leeds.
Finding a doula to support my pregnancy and birth
When I became pregnant in 2015, C and I looked into finding a doula to support my pregnancy and birth. The decision to have a doula turned out to be, hands down, one of the best decisions we have ever made. It really appealed to me to have someone to support and advocate for us during labour and birth. It was a bit of a no-brainer really, to consider having a woman with me through what would be the most female and definitely most life-changing experiences of my life.
We approached Lara, who is a yoga teacher, doula and all-round guru for women's health, and asked her to support our birth. We were absolutely delighted when she said yes. Due to Lara being on leave during some of the on-call periods, we sourced another doula called Michaela Scott from York, and had an agreement drawn up for shared care. This ended up working extremely well as my labour lasted 77 hours!
Our journey to conceiving
We had quite a journey to conceiving our boy. We were trying to conceive for around 18 months before I became pregnant in 2014. I very sadly miscarried at 11 weeks and it took five weeks for the miscarriage to complete, which really took its toll. The loss had a deep and profound effect on me, and it was one of the hardest things I have ever been through.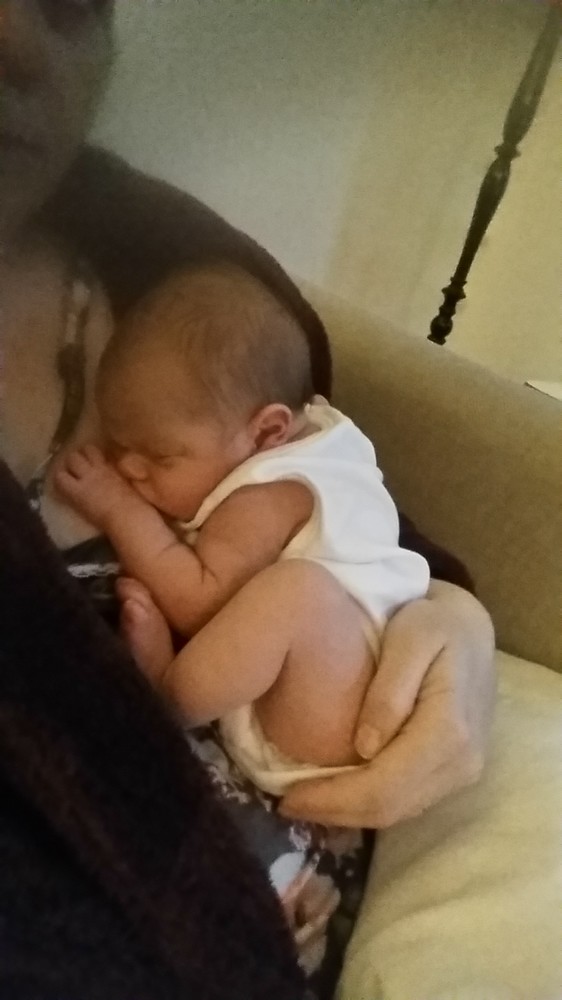 My relationship with Lara is very special and important to me. It is not an over-exaggeration to say that meeting her has changed my life. I first met her a few months after having the miscarriage and I was just coming out of a period of high anxiety. One Sunday, I felt able to go along to a Restorative Yoga session that she was running. I had previously practised yoga but not for many years so it was a welcome return. I felt very relaxed and nurtured in body and mind for the first time in many months. It was the first time I had been part of a circle of women in that way and the positive effects of the session were palpable across the room. After the class, I chatted with Lara and found myself explaining that I'd had a miscarriage and how it had affected me. She was so warm and understanding and I ended up bursting into tears. I felt safe and supported by Lara in that moment and I also felt a release of emotion. It had clearly been very important for me to take some space for myself that day and it was a gentle turning point for my recovery. From there, I looked into other yoga sessions I could attend. I joined Lara's Well Woman Yoga classes on a weekly basis and also had a number of wonderful one to one sessions with her at her home studio.
Over 18 months Lara introduced me to so much good stuff about getting to know and listening to my body better, connecting with my womb, the heart-womb connection and much more. Life changing stuff, I honestly believe. I had become disconnected from my womb following the miscarriage and Lara's classes helped me reconnect with my body and mind to prepare me on our journey towards trying for another baby. Lara also introduced me to Mizan Abdominal Massage with Bushra Finch, which was fantastic, and this helped me connect to myself even more. The massages with Bushra were amazing, but just as important were the conversations we had about where I was at and our loss. Bushra also gave some good advice around womb care (castor oil packs, vaginal steams, herbal tea for fibroids), fertility supporting food and much more. I felt privileged to be able to work with these wise and knowledgeable women and to meet other inspiring women in Lara's classes. This was all helping me start to understand more and more about the strength and wisdom of the female body.
We were absolutely delighted to conceive our baby in 2015 after only a few weeks of trying. I honestly believe that our success in conceiving was down to not only the attention I had paid to my cycle and the advice I had taken on board from Lara, but also the fact that I was much happier and more relaxed in my life. Lara's knowledge and insight were a huge part of this change. I had made myself less busy by reducing some work commitments which was a big step for me, and C and I had got married and our celebrations were the happiest of days. I had been taking care of myself well and preparing my body to conceive through diet, yoga, Mizan Abdominal Massage and other womb care.
Our preparation for birth
I attended Lara's Pregnancy Yoga classes, which were wonderful. In her role as doula, Lara led birth preparation sessions at our house which gave C and I the space to explore fears and wishes around labour and birth. In addition to emotional support, Lara showed C some rebozo and massage techniques and led a lovely meditation for us where she left us snuggled up on the floor of our living room. This previously would've been out of C's comfort zone, but he took to it well and it was a special moment for us both. Lara also showed us some turning techniques for when baby was breach at 34 weeks. Baby's head was engaged a couple of weeks later. 🙂
Lara shared some examples of birth preferences documents, which helped us enormously, and gave us the confidence to create our own where we were clear about our ideal scenario. I decided that I wanted to have a home birth. Our doulas supported me to feel empowered to go for a home birth despite my 'old' age (38 at the time…) and some small and pesky fibroids, which required some additional scans and some pressure from an obstetrician to have a hospital birth. Our birth preferences document helped give me a feeling of ownership of my upcoming labour and helped me trust more in my body to birth my baby. This was especially important to me after experiencing loss.
Our birth experience
I feel I could write pages and pages about my birth story but I will do my best to keep it short!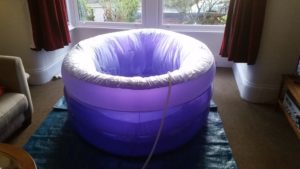 I went into labour on my due date (first real signs were my desire to hide away and rearrange my sock drawer, yes really…) and it carried on over four days. I had some lovely moments and also some truly magical moments throughout including chatting with Lara about music and all sorts in between surges, napping in my own bed, being in the birthing pool in our living room when I wanted to be surrounded by fairy lights, my affirmations board and home comforts, cuddling up with C, being massaged by Lara when things felt tough, eating lovely snacks she bought in from M&S and the aromatherapy and homeopathy, rebozo and breathing techniques she provided.
Michaela took over after two days. One of my favourite and most empowered moments (of my life in fact!) was dancing naked in my living room to my birthing playlist with Michaela and C there. I felt joyful, strong, powerful and beautiful. Throughout labour, midwives came and went as shifts changed and I barely noticed their presence as they respectfully stayed in the kitchen as per our birth preferences, coming to see me only when necessary. Lara and Michaela made sure our birth preferences were observed and acted as gentle gatekeepers to ensure we could have the quiet private space we wanted.
Despite midwives setting up the resuscitation area in the living room and getting ready for me to birth, it became clear after examinations that my cervix wasn't dilating enough and after over 70 hours of labour I was utterly exhausted. We agreed with the midwives that I would be transferred to hospital. I was quite sad about this, but we knew it was the right thing to do.
We were fortunate to be in a private room and took with us my music and affirmations board. I was put on a drip and monitored including, latterly, an internal monitor. The pain was very intense and we were told it was likely to be hours before I gave birth. At this point we agreed that C would go home to sleep for a couple of hours as he was struggling to sleep in the hospital (and I would need him with some energy after the birth!) and Michaela would stay with me.
A little while later, our baby's heartbeat dropped and a surgical team rushed in to the room to take me to theatre for an emergency C-section. C was at home, so Michaela gowned up and came in with me. The decision to do the caesarean was made at 8.14am and our son was born at 8.33am on 14th May 2016. Michaela later said she had never seen such a quick C-section.
It was amazing to have Michaela with me during the craziness of the procedure. I can't emphasise just how important that was to me. Her calm presence next to me made the world of difference in what was a frightening situation. Michaela kept saying "You're about to meet your baby" which helped me to focus on that rather than the emergency nature of what was happening. Between Michaela and the words of the reassuring anesthetist, I was able to have a positive experience and even got some delayed cord clamping and immediate skin-to-skin time with our boy. Michaela took photos for us as J entered the world and as I was being stitched she went to find C to explain what had happened. She had calmly phoned him as I was on my way to theatre to get into a taxi (to make sure he didn't drive) as soon as he could, expressing urgency but without panicking him.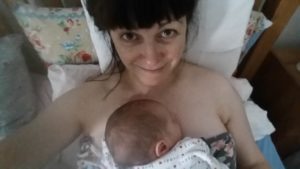 Even though I was disappointed not to give birth at home, I really did have a positive experience overall, and so much of that was down to working with Lara and Michaela. C and I learnt so much more about pregnancy and birth with their support and we understood how we could make our own birth plan which enabled us to feel empowered to make decisions that worked for us. It was very important to me that our doulas were able to also support C during labour and I think this made such a difference to our experience. I honestly believe being able to experience labour the way I did at home, naturally for the most part, really helped me bond with J and helped me to cope with my recovery from the C-section, the whole experience of birth and of being birthed as a mother. I also think feeling empowered in pregnancy and labour enabled us to have a lovely babymoon. And helped me breastfeed successfully from the off.
My doulas reflections of my labour
I asked Lara and Michaela to give me their reflections of my labour. Lara described me as a warrior woman (woo hoo!) and that she loves seeing the authentic woman come out during labour and birth and how you are transformed. Michaela said she'd never seen a stronger mama in labour. Their words moved and overwhelmed me. And I really feel that their presence and support and then feedback enabled me to see my birth in its truth, in all its power and beauty. I still have some stuff to process regarding what happened in the end with my birth, and I have been able to talk to Lara and Michaela about this which was another huge bonus for having doulas. I can't recommend having a doula highly enough.
 
Our reasons for arranging doula support
To have familiar continuity of support throughout my labour.
To support me in feeling empowered enough to aspire to my ideal birth. I know that this seems like nonsense to some people but it worked for me (and for C) in the sense that I felt comfortable with our choices (being at home, having a pool etc.) which enabled me to feel comfortable and empowered for the majority of my labour.
To have someone to support me as I laboured, and C as he supported me. Someone to give C a break, perhaps time to sleep/rest/eat.
To help us make space in our lives during pregnancy to consider carefully what we wanted for labour and birth.
To support us in writing our birth preferences. We opted to use this term instead of birth plan, knowing that there would be no certainties.
To have someone to advocate for us if necessary, for example if our birth preferences weren't being read and considered.
To be a gatekeeper, as required, to midwives, family and friends during labour, for example sending texts to family members with updates on our behalf.
We ultimately felt that we would like to do whatever we could to try and make our experience as positive as possible whatever happened with labour and birth and we felt that having a doula would help us with that.