During this Fertility Yoga Teacher Training Course you will learn simple, safe yoga techniques for women and couples who are trying to conceive. To do this well, you will need to be aware of the causes of infertility and how being unable to conceive can affect couples. You will be encouraged to think for yourself and develop your own style within a clear framework of safety guidelines. Remember that your students will also teach you a great deal every time you have a class, so remain open to learning from them.
As with every aspect of yoga and many other disciplines, the job of learning is never complete – it lasts a lifetime, as we are constantly changing and growing.
New research and experiences demand that we continually keep our minds open and enquiring as no book, degree or qualification – including this one – is definitive. We encourage you to do additional research and write about your own experience. This will not only result in a higher grade, but it will also enrich your study, practise and teaching.
Module 1
Known causes of infertility
Global infertility rates
Assisted Reproduction Technology (ART)
Cultural attitudes to childlessness
Nutrition and lifestyle
Svadhisthana Chakra
Assignment 1
Module 2
Asana for fertility
Restorative poses
Course and class content
Assignment 2
Module 3
Understanding the power of partner yoga
Pair work for couples
Designing workshops for couples
Assignment 3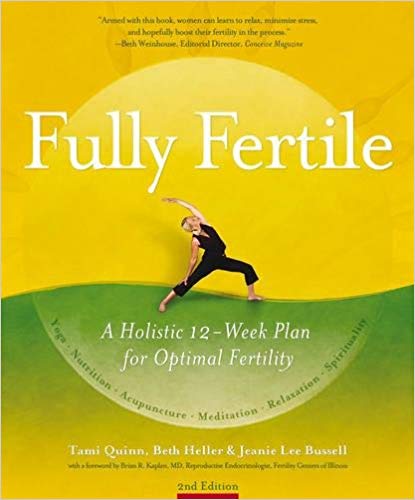 Fully Fertile: A holistic 12-week plan for optimal fertility (Findhorn Press, 2008)
Focusing primarily on yoga and oriental medicine, this book touches on a number of topics including nutrition, acupuncture, meditation and prayer. The book is also packed with full colour photos, charts and illustrations. The authors Tamara Quinn, Elisabeth Heller and Jeanie Lee Bussell have all experienced infertility and share their stories throughout the book.
*You will need to refer to this book frequently as you work through the assignments, so it's best to buy a copy rather than download it to Kindle.
There is plenty of information out there to support your studies. Please don't feel you have to read or watch everything on the list! There are so many good resources available it isn't possible to list them all, but these are the sources that we recommend and have found useful in preparing to teach our own Fertility Yoga classes.
Spirit Babies – Walter Makichen, Bantam Dell
Relax and Renew – Judith Lasater
Yoga: A Gem for Women – Geeta, S. Iyengar
Fertile – Emma Cannon
The Baby Making Bible – Emma Cannon
Taking Charge of Your Fertility – Toni Weschler
The Fertility Diet – Sarah Dobbyn
Wild Power. Discover the Magic of Your Menstrual Cycle and Awaken the Feminine Path to Power – Alexandra Pope, Sjanie Hugo Wurlitzer
Guide to Fertility and Assisted Conception – Zita West
Natural Solutions to Infertility – Dr Marilyn Glenville
Cosmic Cradle: Spiritual Dimensions of Life Before Birth – Elizabeth Carman, Neil J Carman
There are a growing number of fertility classes available online. Some are free via YouTube and others have subscriber only content. The subscription providers may allow a free trial period of 30 days that might be worth considering if you are planning your fertility classes and need some inspiration.
It may have been a while since you were involved in formal academic studies so you may be a little daunted at the start of this course. Don't worry. Take things one step at a time.
Learning should be enjoyable, so study in a pleasant environment.
We all learn in different ways; find a method that works for you.
Create a timetable when you start the course. You will then have a basic framework to work with and a self-imposed commitment.
Make sure the timetable has a realistic completion date and stick to it.
Learning can be enhanced and reinforced by periodically referring back to previous modules.
Research shows that knowledge is absorbed and retained most effectively if a) you take a 10-minute break after every 50 minutes of study and b) you do a quick review of study notes within 24 hours of first reading them.
Learning has highs and lows; it can be both frustrating and exhilarating.
Perseverance and patience will bring their own rewards.
Distance learning allows you the flexibility of studying at your own pace at a time that suits you. Having said that, the average rate of completion is one module per month, and for most students this is a realistic goal.
Homework is in the form of assignment questions listed at the end of each module. Marks will be awarded for accuracy, comprehension, personal insights and inspiration, as well as additional relevant research and diagrams or illustrations. You will be asked to design several handouts and marketing materials as you work through the assignments. These will help you to clarify your thoughts and knowledge and express them clearly. It will also mean that you are well prepared to establish and run your first course. Not all the answers to the assignment questions will be found in the text. You will be required to use your own experience and judgement in some questions.
Include relevant additional research or personal experience within your assignments, giving sources where appropriate and including diagrams and tables if relevant.
Handouts should be one or two A4 sheets – ready to give to your students. (A4 is EU equivalent to US 8 x 11). Make sure that the information given is clear, concise and visually appealing – use colour, logos and illustrations and carry out a spelling/grammar check.
Submit all answers in one Word document, not multiple documents
Label the document with name and module number (e.g. JanHuntMod1)
Label your email subject line as above
Type each question and number as a heading for each answer
Answer all parts of the question and illustrate where required
Do not quote verbatim from the text – use your own words
Quote sources where relevant
Save a copy of your work on a separate CD or memory stick – computers can and do crash so make sure you're never in a position to lose your hours of work.
Coursework that is submitted in the wrong format or that clearly isn't ready to pass to students as handouts will be returned for re-submission. If you are unclear about the format, please ask.
A+, A Excellent
Accurate, detailed, clear presentation with relevant diagrams/examples where appropriate. Relevant experience, research, enthusiasm and sources listed.
A-, B+ Very Good
Main points covered accurately and in detail. Some relevant diagrams included. No serious errors.
B, B- Good
Main points satisfactorily covered. Lack of diagrams and examples. Too brief; some errors/misunderstanding.
C+, C, C- Resubmit
Unacceptable standard – main points not covered or inaccurate. Poor comprehension. Insufficient effort.
DISTINCTION
A grades (combination of A+, A, A-)
MERIT
A- and B+ grades (combination of)
PASS
B+, B and B – grades (combination of)